Are you having a difficult time figuring out whether or not you should hire a cleaning crew for your Las Vegas doctors office? One of the most important things you can do for your private practice doctor's office is avoiding using your own staff for cleaning.  In fact, there are three basic reasons that this style works to your advantage.
Third-party contractors help avoid lawsuits
No one likes to admit that it can happen to them, but sometimes a doctor is sued because of their facilities. For example, a patient sues because they contracted tetanus from a cut they got from playing with their children on metal furniture in your waiting room area.
However, if a third-party is involved with the cleaning of your office, they can help to give you more independent proof in court that you specifically hire trained cleaning services companies that understand medical-grade hygiene.  Having as much testimony as possible from your staff and a cleaning service company could help get these types of lawsuits thrown out of court easily.
Avoid paying for employees
A doctors office typically employs between five and 10 people per practitioner. With each employee you hire, you are responsible for a long list of costs outside of their hourly wage.  For instance, healthcare, unemployment insurance payments, and Social Security taxes. Over-employing can also cost you in payroll and accountancy fees during tax time.  However, if you hire a third-party cleaning service, the only expense you need to worry about is paying for their services in one lump sum.
Keep malpractice and property insurance down
There are various ways that the number of employees you have can affect how much you pay in property insurance and malpractice insurance. Although this varies from company to company, there is a chance that you can be held accountable for extra costs for using your own employees as opposed to a third-party company.
Start professional cleaning services for doctors offices now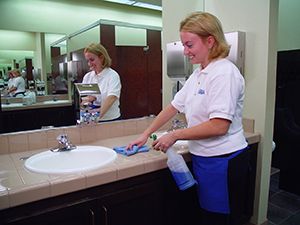 If you are ready to hire a cleaning service that is professional enough to attend to the unique needs of a doctors office, call us today. One of the unique features of our company is that we are good at listening carefully to the needs of our clients. For this reason, feel free to call Roses Professional Cleaning in Las Vegas with any of your cleaning requests, and we will give you an estimate you can appreciate.