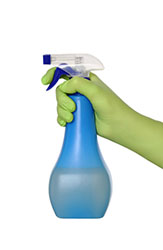 When your employees start calling in sick for cold and flu season, you may wonder if there is a way to prevent as many call-ins as possible.  The hacking and sneezing throughout your company's offices may not grind to a halt completely, but there are ways to keep the sniffles at bay with proper office cleaning.  With techniques we have specially developed for combatting germs in an office environment, we are a step ahead of other professional cleaning companies.  To get a better idea of what you should expect, take a look at this list of the best cleaning techniques for cold and flu season.
Cold and flu prevention
When we service an office under our flu and colds prevention package, we use advice from leading public health authorities about preventative measures for stopping the spread of viruses. This gives us an idea of areas of the office that we should target. For example, areas of the office that spread germs are:
Handles and doorknobs
Copier machine buttons
Elevator buttons
Countertops
Other people's hands during a handshake
Shared tools, books, or files
How we clean to prevent colds and the flu
You can only ask your employees to use hand sanitizer so much before someone eventually gets sick.  Within two to three days, the virus can spread throughout your office.  When we arrive on the scene to clean your office and keep it hygienic, we focus on the places that germs migrate or hibernate the most.  For example, we take the time to clean each keyboard and mouse.  We also wipe down all of the areas that hands can touch throughout the day.  After we have sterilized your office carefully, we complete tasks related to regular office cleaning like vacuuming and taking out the trash.
When to order cold and flu cleaning prevention
The months of November to March are considered by top health authorities to be especially susceptible to the spread of cold and flu viruses.  You may want to order professional illness-preventing office cleaning services in the middle of an outbreak, or you may want to employ as many preventative measures as possible throughout the year.  No matter when you find you need your office sterilized, we are here to help at Roses Professional Cleaning.  Give us a call, and we can start your services right away.