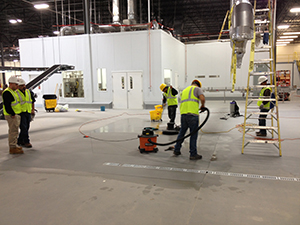 When you order cleaning services for your business, the term cleaning can be vague.  After all, if something on your property is dirty and you hire someone to clean it, isn't that all you need to do?  Despite this presumption, there are two main categories of professional cleaners for hire: landscapers and professional cleaners that focus on businesses and not residential cleaning.
What landscapers clean
Today's landscaper goes beyond your typical plant, shrub, and tree groomer.  This can make things confusing for business owners when it comes to getting cleaning chores ticked off of a list.  For example, some landscapers advertise for pressure washing sidewalks … but so do professional business cleaning services.  Other side items you might see advertised by landscapers that blur the lines with professional cleaning services is tidying up the outdoors.  Since it is outside, landscapers can quickly add services to the list that a pro cleaning service normally provides such as cleaning up animal waste on the property, cleaning outside windows, and picking up litter.
Pro cleaners are inside and outside cleaners
The domain of the professional cleaning service business is typically the inside of the building.  However, if you do not have an outdoor space that needs landscaping, your idea of "cleaning the office" could extend as far as your parking space.  While most cleaning services are going to focus on vacuuming and keeping sink areas sanitary, you can ask to have tasks added to your services list that include the areas outside of the front entrance.  For example, keeping the outdoor parking, entrance, halls, and trash areas free of debris.  Watering plants might be an option, but a cleaning service does not usually bring their own water hose!
Detail-oriented cleaning services for your business
In the end, you do not necessarily need to try to figure out if a landscaping or pro cleaning business is right for you.  What you do need is a professional cleaning company that has the ability to be flexible and allow for extra services to be added to an ongoing service package.  To keep the inside and outside of your business looking professional, call Roses Professional Cleaning today.