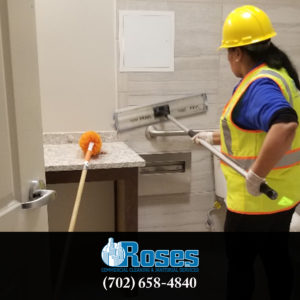 Office cleaning Las Vegas is a specialized industry. At Roses Professional Cleaning we provide exceptional service for every local business.
WHO IS ROSES PRO CLEANING?
As a family owned and operated business, we have been Las Vegas office cleaning for more than 30 years. With our hands on approach to business, we understand the daily operation from the inside out. This knowledge allows us to connect with clients for their specific needs.
WHY ROSES PRO CLEANING?
A clean work environment exudes professionalism and tells your customers, clients, and employees that you care. Roses Pro Cleaning works hard to set your office apart from your competition. While there are a myriad of reasons to consider, here are just of few that make Roses shine:
Cleaning all commercial buildings. We clean model homes, offices, high rise towers, fitness centers, resorts and construction sites.
A trained and professional staff. Our staff is trained in the proper techniques to ensure the highest levels of cleanliness.
All commercial supplies. We provide a variety of commercial cleaning supplies to get the job done right.
A healthy work environment. Minimizing the spread of germs, keeps your employees healthy, happy, and productive.
Every office layout and cleaning need is different. With a variety of clients in the Las Vegas area, we know the importance of an efficient plan. Let Roses create a customized cleaning plan for your office space.
Floors – Tile, VCT, Carpets
Stripping & Waxing
Windows
Wall Cleaning
Door Cleaning
Trash Removal
Janitorial Services
Dusting
Vacuuming
Office kitchen cleaning
Office equipment sanitizing
When it needs to be cleaned, we are equipped to handle the job. There's no job too big for our team of experts. We are only one phone call away and we service all of Las Vegas. Call Roses for a commercial cleaning quote today at (702) 658-4840.