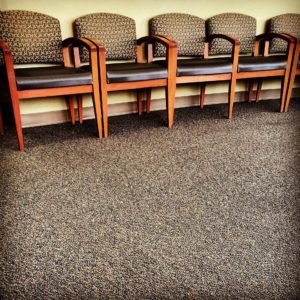 Las Vegas office carpet cleaning is what we do at Roses Pro Cleaning. With so many office buildings in the Las Vegas Valley, we have a pretty clean reputation. In over 30 years of cleaning offices, we've seen carpet in high traffic areas in need of attention. When we're done, the carpet looks like new and able to use for regular operation just hours after completion.
How To Clean Office Carpet
When you have a stain or spill on office carpet here's a few tips to help keep the damage to a minimum. While no remedy is guarantee, these will at least help a little.
Acting quickly is the first and most important step. Be sure to blot up all surface liquid with white paper towels or white cloth. The reason we use white is to reduce any color transfer from the material to the carpet. Quick action is important for hot beverages like coffee as they tend to settle deep into the carpet as it cools.
Lift solids from the spill. If you have food or gum in the spill, remove them carefully to reduce the materials that can leave a stain.
Rinse the area with cold water. For minor spills, spray water directly on the area to rehydrate the spill. After applying water, blot the area again with white paper towels or white cloth. If the spill is darker, you may want to use soda water.
Apply an eco friendly solvent to the area. Using a mild solvent will assist with removing the spill and possibly preventing a stain. With this step, it's important that the solvent will not remove the color from the carpet. Read the label before application.
Rinse the area with warm water to remove the solvents.
If the stain persists, repeat from step #3.
Roses Pro Cleaning
Las Vegas' #1 Commercial Cleaning Company. Call (702) 658-4840 for your free Las Vegas office carpet cleaning estimate today.