Commercial Janitorial service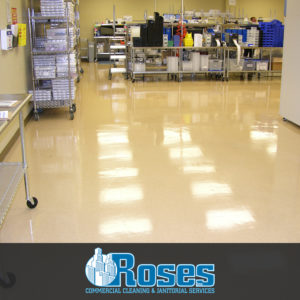 is an important and often overlooked service. Owning or managing an office or commercial building in Clark County, you know the importance of a clean working environment. Whether it means offering shoppers and clientele a spotless, welcoming environment or providing employees with an orderly and hygienic work space, keeping your building clean is of the utmost importance.
What is the best way to maintain such a high level of cleanliness? Schedule a commercial janitorial service from Roses Professional Cleaning today.
Commercial Janitorial Service
Commercial cleaners are not your typical housemaid. A commercial janitorial service sanitizes and organizes every aspect of a commercial building. This includes restaurants, retail stores, medical buildings, and office buildings. While "regular" cleaners perform superficial duties like mopping or dusting, Roses Pro deep-cleans high-traffic areas, making them safer and more hygienic.
Why You Need Roses Professional Cleaning
A clean work environment is a safe environment. In other words, we deep-clean every surface of your building, leaving it completely sanitized (often in places you might not think about cleaning). A more hygienic work space means fewer germs and illnesses. A tidy, organized workstation drastically reduces accidents and injuries.
Cleanliness and productivity go hand in hand. Scientific studies from Princeton University show that workers are more efficient and energetic in clean office settings
A clean building offers a professional, positive first impression. No matter what type of commercial building, you want to put your best foot forward for visitors. However, a neat and orderly appearance tells visitors that you are a professional, high-quality business.
Commercial cleaning surfaces go above and beyond. Unlike your average cleaners, Roses commercial janitorial services provide intense deep-cleaning. For instance, we disinfect and sanitize everything in your building, including carpets, ceilings, vents, upholstery and walls. After that, we leave your office shining like new.
Roses Professional Cleaning is the top choice for a commercial cleaning service in Las Vegas. Found in 1994, Roses is a family owned and operated company offering personalized, quality service. We are a trusted cleaning source therefore, we are licensed and bonded. Above all,when you need commercial janitorial service for large commercial building or construction site cleanup, call Roses today at (702) 658-4840.