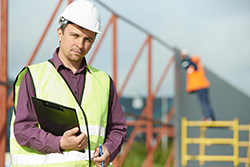 Do you need a janitorial crew for your construction site that has experience beyond office cleaning?  When people think of janitors, they usually associate them with commercial spaces like office buildings, hospitals and venues.  However, the janitorial industry finds itself in any space that needs professional knowledge that goes along with keeping surgical areas sterile, biological hazardous garbage removal, and cleaning construction-related areas.
There are specific tasks that only construction sites provide, and at Roses Professional Cleaning, we are ready to meet your expectations.  Each construction project is unique, and we take the time to listen to our customers each time to provide the best service possible.  Give us a call today, and we will make your construction project sparkle.
Why construction businesses need cleaning services 
After months of building, you are ready to welcome in new tenants, but the sinks and floors in each unit need one last thorough cleaning to make it feel like a home.  Furthermore, you may have been more sloppy than usual with a remodel in a client's high-end home with travertine floors that need to be professionally cleaned.
Or, you may need someone to clean up your construction site and on-site office quarters each day that also has experience with building safety.  No matter what your construction project may entail, a janitorial service is always welcome at some point in the timeline.
Do not feel trapped by one-size-fits-all cleaning
When you are a construction site owner or manager, you may not feel you have clear parameters that define what you need in a cleaning service.  It is easy to get trapped into thinking that a cleaning service is going to only clean the floors.  Instead, we invite you to tell us your needs, and we will let you know how we can accomplish the task.  We also have the professional touch you need to ensure that our services do not interfere with customers, clients, or employees.
Get your construction site cleaned today
Now that you have a better understanding of what commercial cleaning services can do to help your worksite flow, give us a call.  At Roses Professional Cleanings, we are happy to answer any questions you have and will be happy to place a bid.  With over 20 years experience in the Las Vegas area, call us for a free estimate at 702-997-9907.