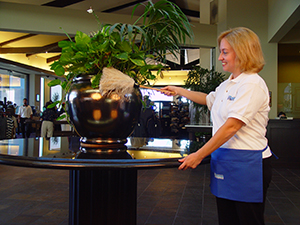 Choosing cleaning services for a manufacturing plant varies greatly from typical housekeeping.  Even at the retail level, there are certain aspects to cleaning a manufacturing plant that will mean specialized knowledge and specific types of equipment need to be utilized.  When you are considering services for industrial and manufacturing facilities, give Roses Professional Cleaning a call.  We are happy to help you with any questions you may have, and you will find that we have the experience and reliability you need.
Some of the areas that we focus on in manufacturing cleaning are:
Bio-hazard disposal
General production/production equipment areas
Administrative offices
Restrooms, employee locker rooms and decontamination units
Floor care
Vendor management
Uniforms for cleaning manufacturing facilities are specific
Most housekeeping companies have uniforms that project a certain image.  However, when your business requires a degree of sterility, anyone that works within that facility will need to wear protective clothing for a purpose — as opposed to typical housekeeping staff uniforms.  This can include enclosing the shoes with booties, using a hairnet, and wearing a jumpsuit.  Although many housekeepers wear their own street clothes, our cleaners know how to accommodate their clothing for even the strictest of sterile facilities.
Working around heavy equipment
Engineered manufacturing equipment often needs a gentle touch.  Whether or not it is being operated, anyone that is moving around it will need to be cautious.  This goes beyond accidentally bumping into a lever, and includes understanding that some chemicals cannot be used to clean the surfaces because of the corrosive damage they can do.  It also pays to have cleaning staff that have experience with cleaning equipment within specifications outlined by a plant manager, technician, or engineer.
Cleaning for sanitation and heavy duty manufacturing cleaning
Housekeeping staff typically works to keep countertops clean, trash emptied, and floors vacuumed.  Alternatively, the focus of manufacturing cleaners could include pressure washing concrete floors or sanitizing hoppers for livestock.  Obviously, in some cases, health and environmental inspectors will need specific types of cleaning done precisely, and a professional company with experience in manufacturing will be able to accomplish these goals within deadlines.
Call us for manufacturing cleaning today
For cleaning jobs that require a background in manufacturing, give us a call.  We will be happy to answer any of your questions, and you will find that we have the ability to follow to details carefully.  When you need reliability and a cleaning staff you can trust, Roses Professional Cleaning is here for you.