If your business presentation is a reflection of you as a business owner, you want the cleanest environment possible for your customers to experience.  When you own a yoga studio or realty company, this need to have a clean image is especially true.  At Roses Professional Cleaning, we are dedicated to delivering a team of trained professionals that have exception customer service and the cleaning skills to make your business glow.  This includes cleaning the employee areas, pressure washing the parking lots or sidewalks, deep carpet cleaning, buffing the floors — and other chores that help your customers gain confidence in your services.
Special cleaning touches for yoga studios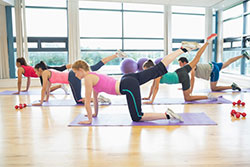 Yoga studios require a great deal of focused cleaning because customers will spend most of their time at the business exercising on the floor.  This means that anything at the floor level will need special attention and care.  For example, floorboards and vents that have dust bunnies will be noticed.  Naturally, a dirty yoga studio will be off-putting to clients that want to be able to lay down on the floor while they are meditating without pieces of dirt sticking to them.  There will also need to be a sanitization of the floors because they come in direct contact with exercising bodies.
Selling the idea of 'home' with a clean office
Realtors are under the microscope while potential buyers are considering the biggest investment most will ever make — their home.  As a realtor, you want the same level of cleanliness as a yoga studio because you want potential home-buyers to avoid any misgivings about giving you their business.  This indicates that floors, walls, bathrooms, and office areas need to be a pristine so clients do not feel threatened.  After all, if they see you have a dirty office, they may have the unsettling feeling that their future home may also have some hidden dirty messes to clean up.
Call us for classy cleaning for your high-end business
When you need to give your customers the highest standards possible, Roses Professional Cleaning is here for you.  We are a dependable company that has the know-how for cleaning techniques at a variety of facilities.  We listen to our customers, and we also have a wealth of helpful suggestions to get your yoga studio or realtor business the specialized cleaning it needs.  To get started, give us a call and speak to one of our friendly staff today.