Are you a unique venue, club or golf course that has indoor and outdoor cleaning needs?  When you have these types of facilities, you need highly-trained cleaning staff that keep the place looking high-class.  On the other hand, finding high-end cleaning services that can address these types of commercial businesses can be a challenge.  This is especially true if you have heavier, physical jobs that still need a delicate touch.
Regardless of your ability to hire the perfect cleaners in the past, if you are looking for superior cleaning services in Las Vegas that make membership-only properties shine, Roses Professional Cleaning aims to please.  We take the time to listen to the types of services you need and do not have one-size-fits-all packages.  This means that you will have the exact services you want instead of generic approach.  To get started, call us today.
What makes venue and event spaces special?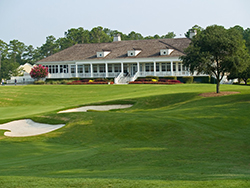 As a golf course, club, or exclusive venue owner, you can hold up to 10 parties a week.  Each time, cleaning services will be needed that know how to perform duties after wedding guests have left, during a golf tournament, or following elaborate all-night dance parties.  Unlike office buildings, gymnasiums, or doctor's offices, venues need a professional cleaning service that is trained in high-end environments while having some flexibility in tasks and hours.
What sets golf course cleaning apart
Sometimes, a golf course has more amenities than a gym.  For example, there are locker rooms in both spaces, but golf courses have the club house.  This can include a full-scale restaurant, bleachers, tournament food sale areas, shops, conference rooms, bars, kids room, and other meeting areas. Obviously, there are a lot of hard jobs to do in these unique spaces that cover a vast number of skills.  But, unlike a gym environment, in golf courses or venues, you will still need a well-mannered staff that acts and looks presentable in the lavish environment that you create for your customers.
Hire high-end golf course and venue cleaners
When you are ready to see every detail of your cleaning list checked off with dedication, it is time to give Roses Professional Cleaning a call.  We are always available to answer questions, and we can put together a bid that is itemized to your specific expectations.  To get started, call us at 702-997-9907 for a free estimate.