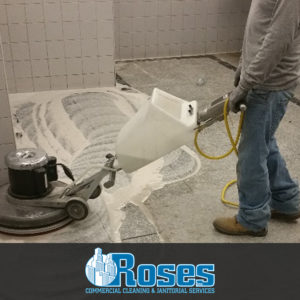 Cleaning commercial floors isn't rocket science but it must be done properly. No matter the industry, having clean floors in your commercial building is incredibly important.
Studies show that having a clean workspace helps employees be more efficient and decreases the likelihood of injuries on the job. Plus, when clients or customers visit your building, an attractive space makes a great impression.
At Roses Professional Cleaning, we have been in the commercial cleaning industry for more than 20 years. Cleaning commercial floors is just one of the services we provide. If you were wondering exactly what a commercial cleaning service does when they clean your floors, read on:
Four Steps to Cleaning Commercial Floors
Step 1: Floor Prep
Depending on the floor material and condition, different preparations may be required. The floor must first be cleared of all debris. Before the cleaning process can begin, existing wax is stripped off. This is done by applying environmentally friendly solutions.
Step 2: Machine Scrubbing
The Roses professionals use a heavy-duty stripping machine to break up the old layers of wax and remove them. It is important to fully remove any previous finish in order to deep-clean the floors.
Step 3: Mop and Dry
Now we mop the floors with a professional cleaning solution, allowing the floor to completely dry in order to prepare for the last step.
Step 4: Wax and Shine
Once the floor is completely clean and dry, a thin layer of wax is applied. This brings the floors to a shiny gloss. The more layers added the shinier and more scuff-resistant the floors will be. For high-traffic buildings like schools or hospitals, more layers might be required.
Commercial Vinyl Floor Cleaning
We have been the Las Vegas Valley and Clark County's top choice for commercial cleaning services since 1994. As a family-owned and operated company, we provide our customers with honest, quality services they can trust. From large commercial cleaning projects to construction site clean-ups, we offer a wide array of cleaning services.