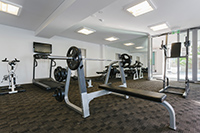 When you own a fitness business, there are more areas that need to be cleaned in unique ways than with other types of businesses.  For instance, most businesses just need to the floors vacuumed and the windows washed a few times a week.
On the other hand, a fitness business has more than 10 areas that are unique to the gym industry that need a cleaning service that can address them correctly and as often as needed.  When you need professional fitness business cleaning, call Roses Professional Cleaning today.
1. Spas and pool
Trusting employees to always get the chemicals right for keeping a spa or pool in good working order can be expensive if they do not do it correctly.
2. Showers and bathrooms
While your staff may need to go in and keep these areas picked up regularly throughout business hours, heavy or deep cleaning will need to be done to keep customers happy.
3. Standard office areas
The employee break rooms, bathrooms, changing areas, and office areas will need to be cleaned to keep them up to the same standards as a commercial or retail business.
4. Massage and therapy areas
Any place where practitioners work with patients or clients will need to be kept as sanitary as a doctors office.
5. Dumpster, parking lots and alley cleanup
If your back entrance looks rough because the dumpster pickup service leaves putrid trash water behind, include it on the list of areas you want a cleaning service to remedy.
6. Trash and other standard cleaning
A normal cleaning schedule for any business can include over 20 tasks that will need to be performed daily, bi-weekly, monthly, or semi-annually.
7. Food serving and preparation areas
Food service cleaning may be on your list of priorities and keeping full-scale dining area, cafe, or break room  up to code is important for avoiding health code violations.
8. Light laundry facilities
When you need fresh towels ready to service hundreds of customers, a cleaning company that has a great memory will need to be on your agenda.
9. Saunas
Like pools and spas, saunas need strict cleaning with the right products to ensure that customers do not get sick.  Mildew, grout, and window cleaning will also need to be cleaned.
10. Special cleaning for fitness equipment
Some fitness equipment (like weightlifting) can rust if the wrong cleaning products are used.  Electronic equipment can malfunction if the proper cleaning techniques are misunderstood by cleaning crews.